GLOW Recruitment ATS and
applicant management
Discover a complete solution, adapted to your recruitment process.
A completely configurable solution that will perfectly adapt to your organization.
SEE GLOW IN ACTION
THE ALL-IN-ONE SOLUTION TO HELP YOU IN YOUR RECRUITMENT AND MANAGEMENT OF YOUR EMPLOYEES
Create your own career page directly from GLOW IN THE CLOUD.
Creating your own career page has never been easier or faster.
Already have one? Connect it with the solution to post your jobs and receive your applications directly in GLOW IN THE CLOUD.
     – Enhance your employer brand
     – Customize your content
     – A simplified candidate experience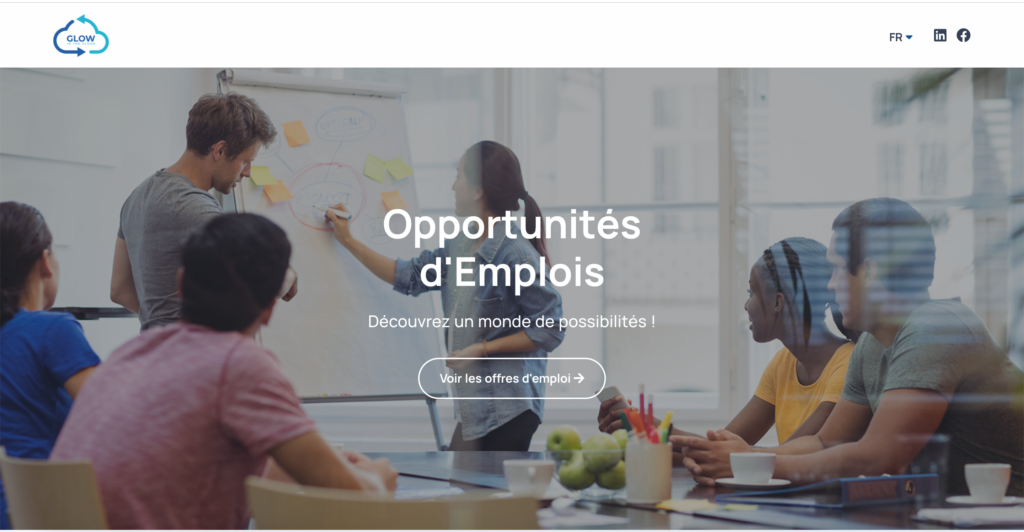 Don't waste time creating jobs on each individual job board.
Use the multi-poster to post your jobs simultaneously on your career page and over 2,000 job boards.
     – Save time in your posting
     – Be visible
     – Track your results
Why use multiple tools when you can centralize your entire recruiting process in one solution to manage your applications, requests, postings, interviews, documents, follow-up notes and exchanges.
     – A configurable and modular solution
     – Simplify and streamline your recruitment process
     – Improve your internal communication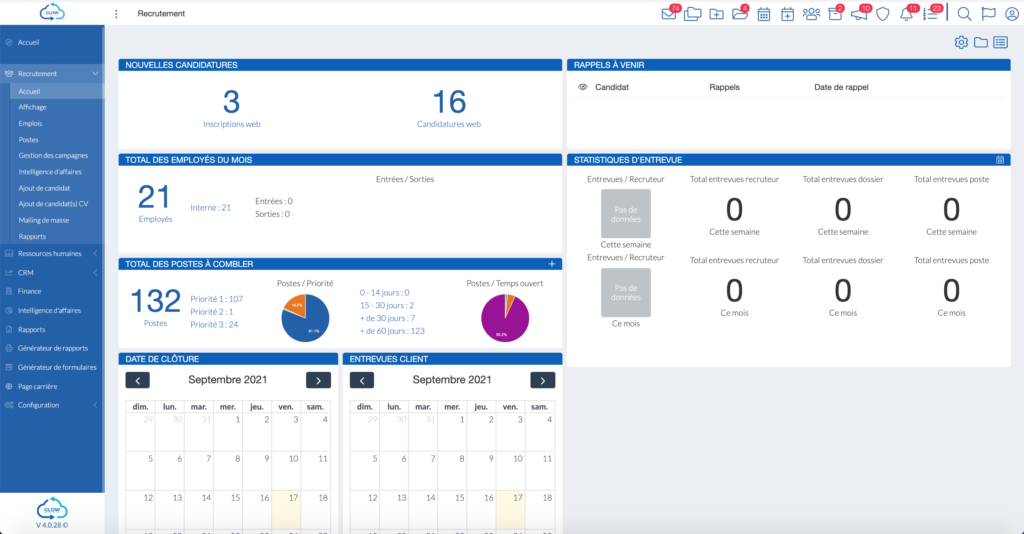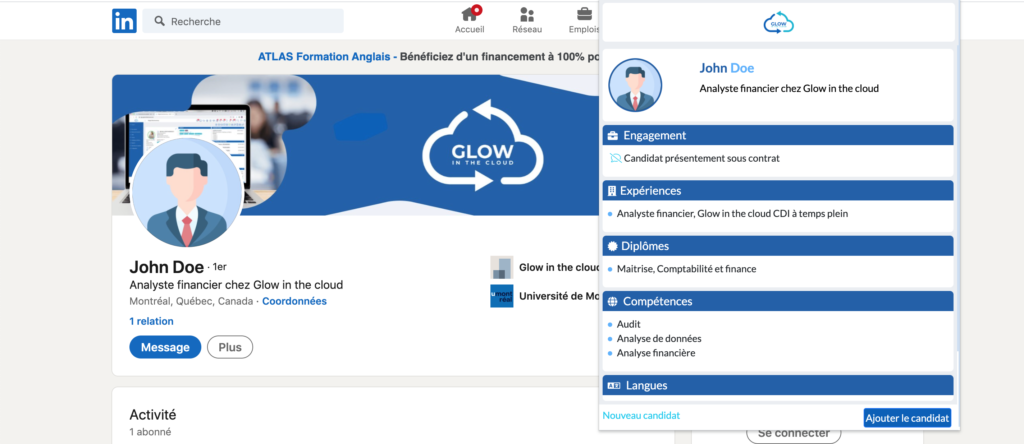 Choose a solution that will allow you to feed your database in no time.
Integrate new relevant profiles from your professional social network
     – Add new candidates with our resume analyzer
     – Let GLOW suggest the right profiles for your positions
     – Develop a quality database!
Each form has its own purpose!
Create forms according to your needs, whether for your internal interviews, to send to your candidates or to customize your online application forms for your posted positions.
     – Customize all your forms
     – Forms adapted to your needs
     – Centralize all the information collected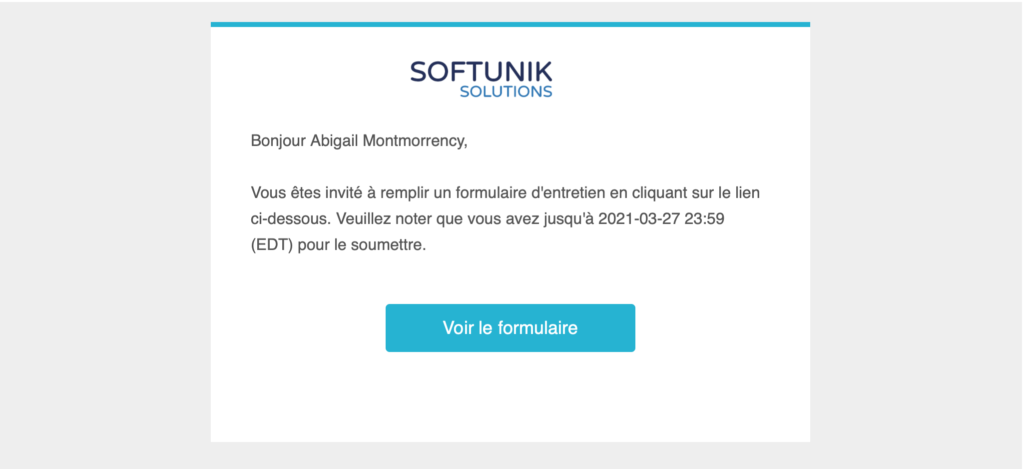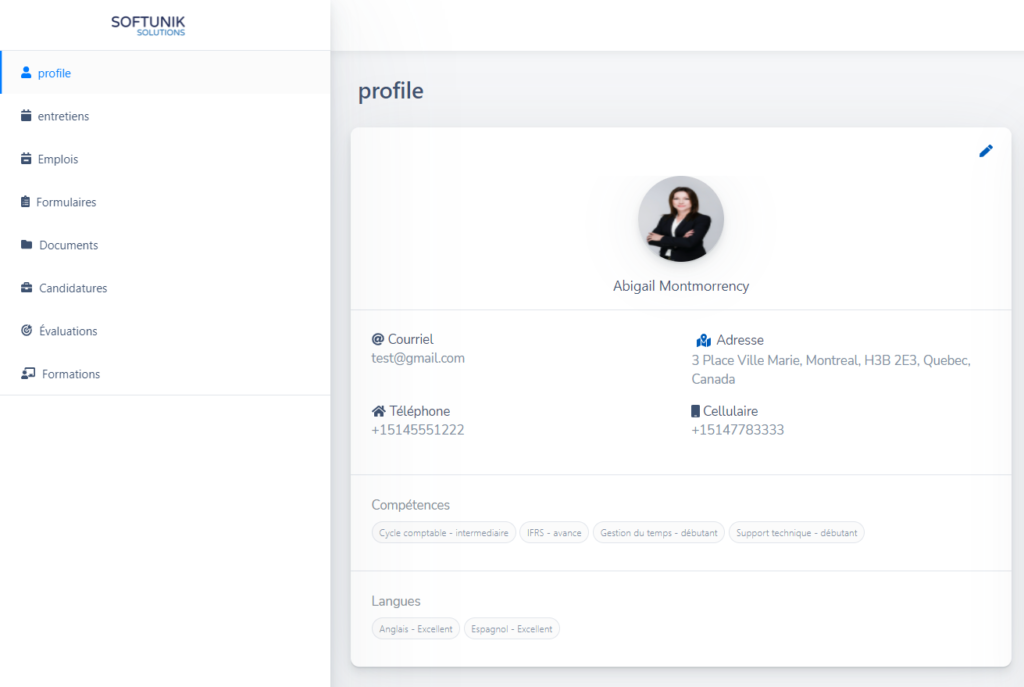 Simplify your HR processes by setting up an employee portal directly from GLOW IN THE CLOUD.
Your employees will be able to read and modify their personal information.
Access this functionality in an instant from within the solution.